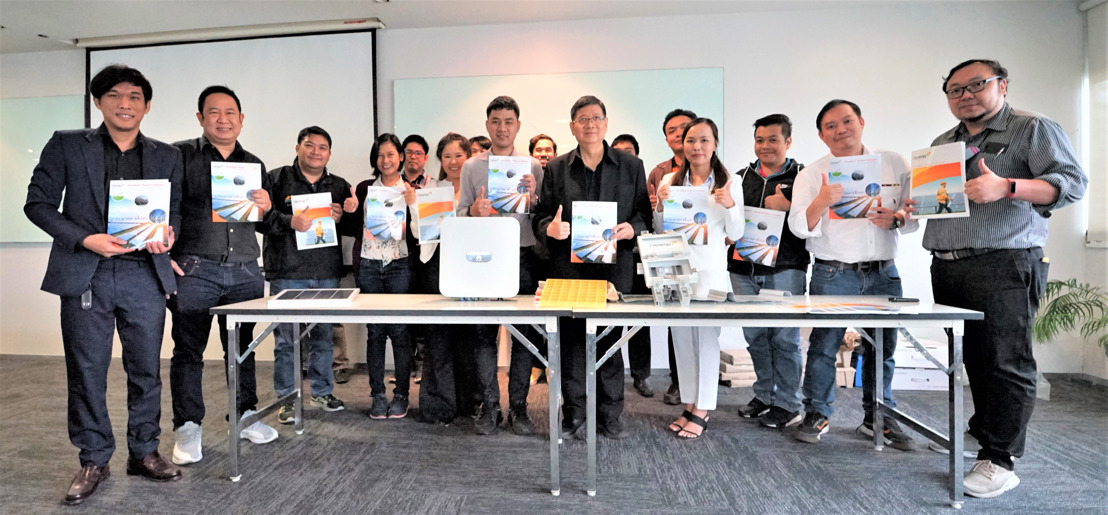 JJ-LAPP and Clenergy
form PV-ezRack distributor partnership in Thailand
Singapore – ​ Continuing its efforts to meet the growing market needs and for a green Asia, JJ-LAPP – the cable technology joint venture between Jebsen & Jessen Pte Ltd and Lapp Holding Asia Pte Ltd, a subsidiary of Lapp Group in Germany - a Singaporean, ASEAN-based has signed a new distributor with Clenergy - a globally renowned energy company and an expert in the renewable energy industry - for the supply of Clenergy equipment to the Thai solar market.
The agreement covers the PV-ezRack range of solar racking equipment in Thailand.
Daniel Hong, Clenergy's managing director, says, "Clenergy, with its many years of experience in the renewables industry, has an excellent understanding of market requirements and is a trusted solutions provider. Having a similar mindset with JJ-LAPP, we knew that it would be an ideal and constructive partnership. There is a marked increase in solar installations as the Thai market is expanding and obviously premium solar racking is a unique offering to meet this demand. In terms of quality and cost economy, PV-ezRack® caters to key market requirements and customer needs."
"PV-ezRack Solar mounting equipment is well placed in the Thai market to provide service and support to our customers in their solar journey," adds Chudarath Panichamnuaysuk, Thailand Country Manager for Clenergy. "The PV-ezRack range offers high quality, efficient solutions with cost-effectiveness and we look forward to supporting JJ-LAPP's local team in delivering commercial success to solar installers & EPC's in this region and helping them become more competitive."
"As a leading cable and connectivity solutions provider in the region, JJ-LAPP is well-positioned for this new partnership with Clenergy," said Mike Winzerling, the Regional Managing Director of JJ-LAPP. "We are a company that is passionate about sustainability and have done extensive work in the solar industry. South East Asia is one of the fastest-growing solar energy markets and its growth will be key to meeting the additional capacity that will be needed to fuel sustainable growth. We are thrilled to be working with Clenergy to augment the distribution of their solar PV solutions and pursue sustainable growth opportunities that align with our business."
Both JJ-LAPP and Clenergy have a strong track record in paying attention to detail and providing services for clients that go above and beyond. Clenergy is deeply experienced in understanding the complexity of solar installation and the importance of each step, ensuring that thorough follow-through is provided with a great experience to end-clients.
JJ-LAPP's extensive network, logistics capabilities and experience within the solar industry will ensure that Clenergy's products are be professionally handled, while providing world-class, quality service, at all stages of the purchase journey, to all customers.